Rafid Steel Industries (RSI), are the pioneers in space frame system since 1991. RSI was the first company in the Middle East to have Engineering, Fabrication and Installation facilities in one lot. Bearing Industrial License No. 696 S. RSI specializes in three-dimensional steel space frame and its related architectural and structural elements.
RSI integrated Factory is situated at the 2nd industrial City of Riyadh City. RSI also have satellite offices in Jeddah and Al-Khobar.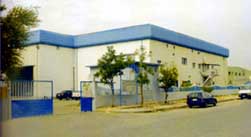 In its long history in space frame systems, RSI is proud to disclose that it has successfully completed and achieved outstanding results of over 1000 projects in the Middle East such as Egypt, Sudan, Ethiopia, Lebanon, Jordan, Qatar, Kuwait, Yemen, U.A.E., etc. amounting to over a million square meters of covered area.
Rafid Space Frame is an innovative form of steel construction having wide range of application in the building industry. Their greatest advantage, however, lies in their architectural beauty and structural efficiency coupled with its economy and its ability of spanning large areas without the necessity of interior of intermediate support. Among the various applications of space frames are:
· Airport Facilities

· Warehouses / Factories

· Architectural Monuments

· Exhibition Halls / Showrooms

· Recreational and Sports Areas

· Pedestrian Overpasses

· Commercial and Shopping Malls

· Atriums and Courtyard Areas

· Car Park Shades

· Building Canopies and Facades

· Gas / Petrol Stations

· Mosques and Many More…
Space frame can be tailored to meet the individual needs and requirement of each client and their projects. Rafid Steel Industries' (RSI) capability of constructing unlimited geometry enables RSI to transform the structure from its simplest form to the modern architecture.

Rafid is undoubtedly the leader and is racing ahead in space frame due its commitment to Quality and the philosophy of Total Quality Management System as evidenced in acquiring the prestigious BS EN ISO 9001 awarded to RSI by the British Standard Institute since 1996.

It will be our utmost pleasure to assist and extend our services to your company and we hope this introduction will be the first step in establishing a healthy business relation with you.
Should you require more information and details, please do not hesitate to contact us.


With Regards,
RAFID STEEL INDUSTIRES